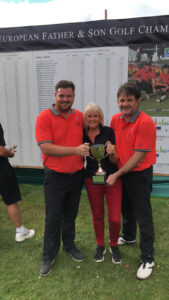 Just as the winner of the 2018 Father-Son Team Classic won a trip across the pond to compete, we will be hosting the victor of last year's European Father-Son Championship.
Jack and Marty Brooks, who reside in northwest England, will be playing in this year's Father-Son, and we wanted to provide you a quick introduction to our friends from across the UK.
Marty, who is Jack's son, was kind of enough to participate in a Q&A just two months remaining until the big event!
How did you win the trip to Myrtle Beach to participate in our event?
Marty Brooks: We won the 54-hole European Father-Son scratch championship in a sudden death playoff at Monte Castillo in Spain 🇪🇸. We tied at 15-under par (in regulation).
What was your reaction to winning?
MB: Absolutely delighted!! There was a lot of good competition but our strong team spirit throughout the week pulled us through. We were in the final group on the final day and had been in the mix all week. It was probably the most emotional tournament to win as we were there as a family rather than individuals. It was a fantastic achievement for both of us.
Have you previously been to America and Myrtle Beach?
MB: I've been to America in 2013 when I played on the All-American Gateway Pro Tour in Arizona. It's my dad's first trip over the pond.
What role has golf played in your relationship and how has it evolved over time?
MB: Our family home used to back onto our local course in Blackburn, where my dad was a member, and that's how I got into golf. I started playing at age 5 and then used to caddy for my dad to earn pocket money. My dad has been a very low handicap since he was 18, so he has always given me tips and advice on the game. These days we try and practice together but don't get chance to play much together as we are both members at different clubs in different counties.
Do you play together in many tournaments?
MB: Not at all. Being at different clubs and different ages, it is difficult. Which is why we enjoy the Father-Son events so much.
Do you ever take golf trips together?
MB: Yes, we try and get golf holidays in regularly. Golf is popular in our family, but mainly Spain, Portugal and Scotland (are our destinations).
What are your expectations for this year's event?
MB: We are aiming to become the first ever European champions to go on and win over in the USA!!
What are you most looking forward to about the trip?
MB: The huge tournament atmosphere, fantastic courses, the cold beers, the hot weather!! And it's a chance for us to spend time together as a family in the fantastic South Carolina!
Where do you play?
MB: I play golf at The Mere Resort in Cheshire. Martyn plays at Pleasington Golf Club in Lancashire.
How long have you been playing golf?
MB: I've been playing 23 years and my dad has been playing 45 years.
What is your greatest golf memory?
MB: Winning the European Father and Son championship has to be the best moment of both our golfing careers!!